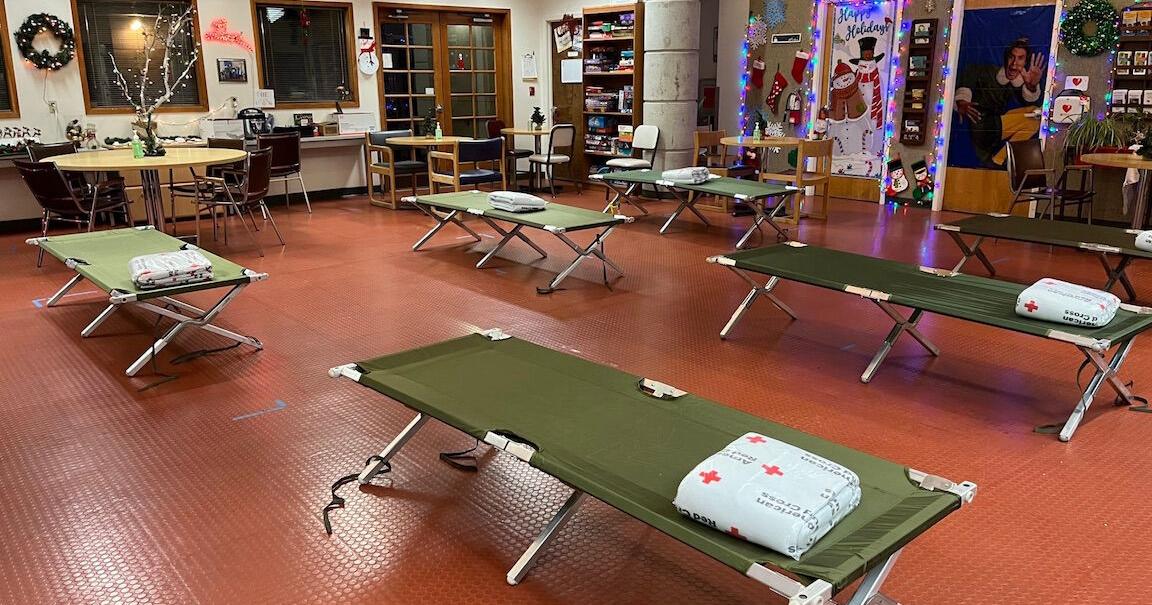 Tuolumne County Behavioral Health Workers and Volunteers Provide Respite During Storm | News
Inclement weather and prolonged power outages transformed the Tuolumne County Behavioral Health Department's Enrichment Center in downtown Sonora into a heated shelter from 7 p.m. Tuesday to 7 p.m. Wednesday, offering residents and residents. not housed a warm place to sleep, eat a hot meal, take a shower and get away from the cold weather.
The mood was festive and the temperature was warm and toasty on Wednesday morning as half a dozen people enjoyed a hot breakfast, dozed off on a cot, watched a movie, or happily chatted while sipping. snacks provided by the agency.
For Robert Alvarez, 71, taking a hot shower Wednesday morning at the Enrichment Center was the highlight of his day. Homeless for 26 years, including 13 in Tuolumne County, Alvarez was delighted to have "got high".
"A good hot shower always makes you feel better," he said. "I feel like a different person."
After cleaning up, he sat at a table in the center turned into a heated shelter and ate the Jack In The Box breakfast, delivered and donated by the American Red Cross.
The Red Cross delivered sandwiches at lunchtime and later at Pinocchio's dinner on Mono Way. Ramen noodles, coffee, bottled water, soda and other snacks were made available to everyone throughout the day.
"I had a nice breakfast of sausage, eggs, bacon and a cookie," Alvarez said. "It was so kind of the American Red Cross to do this. Baby cots are great. You must rest.
Originally from Sonora, Mexico, Alvarez came to Mother Lode with his family in 1953. His family came to Tuolumne County to work on the reclamation of mines in the area and traveled with Mariachi musicians. Lover of music, he plays guitar, piano and ukulele.
Cheerful and positive, despite being homeless, Alvarez learns two new songs to add to his guitar repertoire – "Auld Lang Syne" and "Beer Girl Polka". He nimbly strummed the guitar and sang songs from both tunes, his voice loud and melodic, as he did.
A combination of medical bills and surgeries landed Alvarez on the street, he said. Despite the fact that he does not have a home, he said he was not unhappy, quite the contrary.
"Robert is a regular here," said Jennifer Guhl, program manager for the MHSA agency. " He is wonderful. We have a lot of good people.
For Guhl, who has worked for the organization for the past four years, getting to know the clients she serves makes the job special and meaningful.
Running a warming center was a first for Guhl, as it helped transform the enrichment center into a shelter by socially distancing eight cots, each with a retractable blanket, in accordance with COVID-19 safety protocols .
The makeshift shelter housed three people on Tuesday evening, according to Guhl, who said clothing, shoes, gloves, hand warmers and socks were available for anyone who needed them. Although five minutes from the limit, Guhl was happy with what the cross was able to accomplish.
"These three people were warm, dry and safe," she said. "This is what is important. Helping people in our community "
Rebecca Espino, director of the County Health and Social Services Agency, was on site Tuesday evening to set up cots and prepare the center for transformation. Being useful means setting an example, she said.
"It is important that leaders at all levels are involved in providing direct services to our community," Espino said. "It means being there to help. I am grateful to all of our Night Volunteers and Sheriff's Department for providing two Community Service Agents.
Espino said staff members encouraged people they were in contact with, who were walking in the rain, to come to the center to dry off, eat something and relax.
Once homeless and himself in need, Robert Graham, 45, is a behavioral health client who thanks agency employee Linda Nelson for helping him apply for Social Security benefits and Betsey Coe, who helped him find housing.
"I was homeless for a long time," he says. "I lived with different family members and slept on people's sofas. I was born at the Tuolumne general hospital. I was brought up here.
Graham, who was at the enrichment center Wednesday for group therapy to help him cope with depression and other mental health issues, but instead entered the makeshift shelter and found his friend Alvarez.
"Robert and I have been friends for 5 years. We're both interested in music, "Graham said.
The two were happy to meet and have a warm place to sit and visit while the rain fell and temperatures were in the 1930s and 40s.
"Behavioral health is the best thing there is," Graham said. "They really do a lot for people. I wouldn't have a bed or a room or a place to live without them.