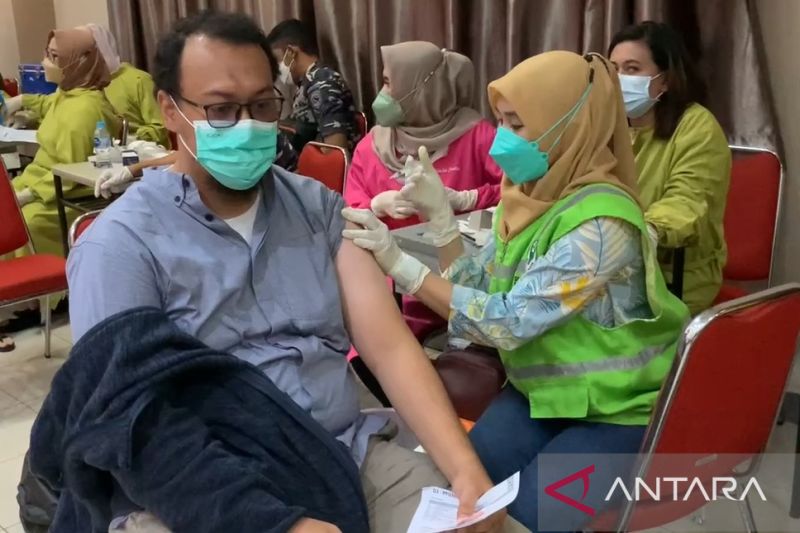 Number of booster dose recipients reaches 43.9 million
Jakarta (ANTARA) – At least 43.9 million Indonesian citizens received the third or booster dose of the COVID-19 vaccine on Saturday, according to the COVID-19 Handling Task Force.
According to data from the working group received by ANTARA here on Saturday, the number of recipients of the third dose increased by 349,398 on Saturday, bringing the total number to 43,911,285.
Meanwhile, the number of fully immunized people, or those who received two doses of the vaccine under the government's national immunization programme, rose by 132,018 to 166,764,720.
Based on the data, the number of people who were inoculated with the first dose increased by 45,565, bringing the total number of beneficiaries to 199,844,276.
As part of efforts to build community immunity against COVID-19, the Indonesian government launched a national vaccination program on January 13, 2021, targeting up to 208,265,720 citizens across the country. President Joko Widodo was the first to be vaccinated under the program.
Previously, the head of the COVID-19 management task force at the Indonesian Medical Association (IDI), Professor Zubairi Djoerban, said that the risk of a potential increase in COVID-19 cases after the period of The 2022 Eid return exodus was lower compared to in previous years, as Indonesia's vaccination rate was already high.
He pointed out that during the return period from Eid in previous years, the number of people vaccinated against COVID-19 in Indonesia was still low, which led to an increase in the number of cases after the return period.
People who have been vaccinated have a lower risk of contracting COVID-19, and if infected, they do not have severe symptoms.
The first case of COVID-19 in Indonesia was confirmed in March 2020. According to data from the COVID-19 Management Task Force, as of May 21, 2022, the country has recorded a total of 6,052,363 cases of COVID- 19. 5,892,126 recoveries and 156,519 deaths.
Related news: Mutual recognition of vaccination: EU approves use of PeduliLindungiapp
Related News: Indonesia to Integrate Child Immunization Data into PeduliLindungi